I am now following the video of "Moralis Login" of Building DEX. When I click the "Moralis Login" button, console said
"Uncaught (in promise) Error: You need to call Moralis.start with an applicationId before using Moralis.
at Object.generatePath (moralis.js:26884:13)
at Object.currentUser (moralis.js:25520:33)
at Function.value (moralis.js:24944:25)
at HTMLButtonElement.login (dex.js:7:29)"
Attached is the photo: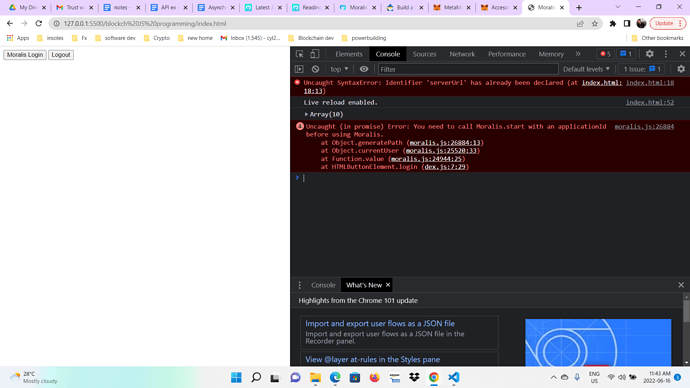 I have already installed MEtamask in my Chrome. WHat should I do?
Below is my code:
Javascript
// connect to Moralis server
const serverUrl = "https://j9tck2jtuezz.usemoralis.com:2053/server";
const appId = "YqqTSiKo1qxsHpSngDUrJX1l4VtsqgEXrTp7JYRM";

 // add from here down
 async function login() {
    let user = Moralis.User.current();
    if (!user) {
      user = await Moralis.authenticate();
    }
    console.log("logged in user:", user);
  }

  async function logout() {
    await Moralis.User.logOut();
    console.log("logged out");
  }

  document.getElementById("btn-login").addEventListener('click', login);
  document.getElementById("btn-logout").addEventListener('click', logout);

async function getTop10Tokens() {
    const response = await fetch('https://api.coinpaprika.com/v1/coins');
    const tokens = await response.json();
    
    return tokens
            .filter(token => token.rank >= 1 && token.rank <= 30)
            .map(token => token.symbol);
}
    
async function getTickerData(tickerList) {
    const response = await fetch('https://api.1inch.exchange/v3.0/137/tokens');
    const tokens = await response.json();
    const tokenList = Object.values(tokens.tokens);
    
    return tokenList.filter(token => tickerList.includes(token.symbol));
}

getTop10Tokens()
    .then(getTickerData)
    .then(console.log);

HTML
<!DOCTYPE html>
<html lang="en">
<head>
    <meta charset="UTF-8">
    <meta http-equiv="X-UA-Compatible" content="IE=edge">
    <meta name="viewport" content="width=device-width, initial-scale=1.0">
    <title>Moralis DEX</title>
</head>
<body>

    <button id="btn-login">Moralis Login</button>
    <button id="btn-logout">Logout</button>
    <!-- Moralis SDK code -->
    <script src="https://cdn.jsdelivr.net/npm/web3@latest/dist/web3.min.js"></script>
    <script src="https://unpkg.com/moralis/dist/moralis.js"></script>
    <script src="./dex.js"></script>

    <script>
      // connect to Moralis server
      const serverUrl = "https://j9tck2jtuezz.usemoralis.com:2053/server";
      const appId = "YqqTSiKo1qxsHpSngDUrJX1l4VtsqgEXrTp7JYRM";
      Moralis.start({ serverUrl, appId });
    </script>
</body>
</html>